We have gathered a group of diverse, professional and passionate teachers to provide safe and fruitful classes for all levels, from beginners to the most experienced yogis.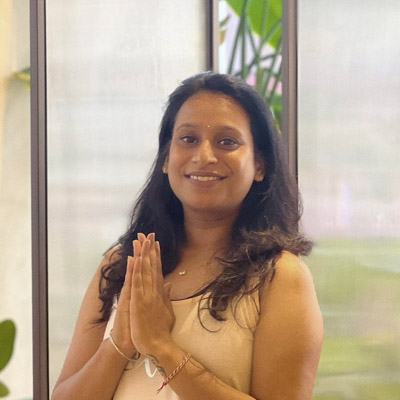 Vijay
Vijay born and raised in India- the land of yoga known for its tremendous cultural power - is an experienced and passionate Yoga Teacher with over 10 years of teaching experience. Masters and Bachelor in yoga education. Awarded for best presentation in 3rd international conference on recent advance in Yoga Physiotherapy held by department of yogic science. She is committed to providing extensive instructions and counselling to students while motivating them to find true inner peace and their healthiest self physically and mentally in long term. She teaches more than the postures, she works on breath and meditation, that will enrich your practice so much more. Yoga is her joy.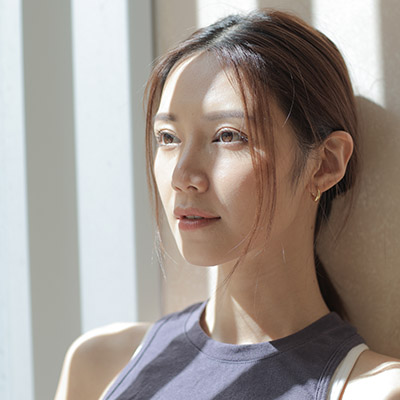 Elva Ni
Elva discovered her passion for yoga in 2013. Yoga changed her way of living by making her feel grounded and helped her believe in herself. Her first yoga teacher training was with Samrat Dasgupta. Ana Forrest was Elva's mentor and guide. When teaching; Elva aimes to inspire her students to be more confident and of open heart. She believes everybody has the power to heal themselves. By using the correct tools gathered through yoga one can find happiness and peace inside and out. She hopes her students feel refreshed, nourished, and balanced when they step off their mats.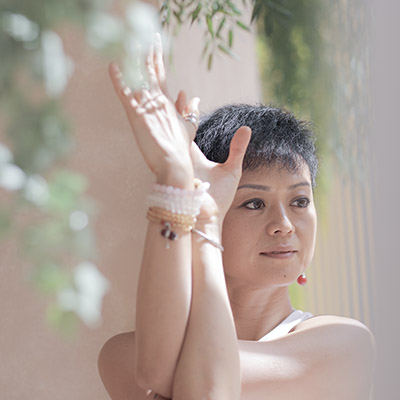 Yan Zhou
Yan, a Yoga Alliance certified E-RYT 500 Yoga teacher, is Forrest Yoga Gaudian in Training and certified Reiki Master. She is a passionate practitioner and teacher who wants to share the wisdom of Forrest Yoga with everyone. Having previously worked in the Financial Services Industry, Yan believes that we can transform stressful lifestyles to be more balanced and energetic by increasing the awareness of our breathing and by establishing a connection between the body and mind. Yan's classes focus on using deep breathing to build up body strength as well as to improve flexibility through intelligent Forrest Yoga sequencing. Using unique hands-on-assist techniques, she guides students of all levels, to practice safely and to experience the healing powers of yoga, but at the same time having lots of FUN!



Yan is also Yoga Alliance registered YACEP & RPYT, Poppy Perinatal as well as Mindful Birth certified Pre/Postnatal yoga teacher.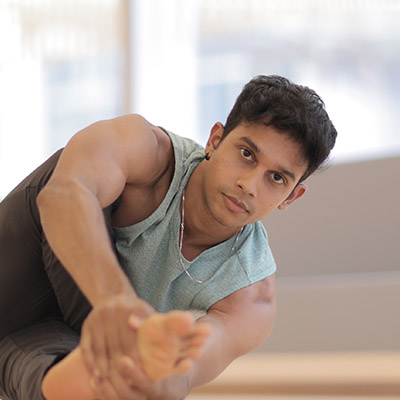 Ranjit Nekhar
Ranjit is a competent yoga teacher with vast experience across India, China and Hong Kong. Through these international work experiences, he gained fluency in Mandarin. He is known to be sensible and practical, with sound knowledge in fitness, nutrition and food science. He began practicing yoga, dance and cardiovascular exercise in his adolescence, which shaped his passion for teaching at all levels. Continuously expanding his body of knowledge in anatomy, he strives to maximise benefits whilst ensuring student safety. He is determined to provide strong, creative and intelligently sequenced classes serving to engage, refine and inspire individuals. He strongly believes students should leave a class feeling informed, empowered and rejuvenated. Certified as a Hatha Yoga teacher from TAYT College of Yoga & Research Institute from India and E-RYT 500, he has additionally gained certification in Group X Foundation & Science from Athletics and Fitness Association of America, certification as a Personal Trainer (Functional Anatomy) from the National Academy of Sports Medicine and has acquired certification for First Aid - CPR + AED from Hong Kong Red Cross. Aside from these qualifications, he feels grateful to have been complimented for his unique ability to transform learner's lives towards happiness and peace.
Anna Koo
Anna found yoga while working as a lawyer in 2006. She fell in love with yoga at her yoga teacher training with Ana Forrest in 2010. Anna has since continued her studies in yoga, as well as in Polestar Pilates and Vipassana Meditation. Anna brings with her, a knowledge of anatomy and mindfulness into her teachings, and enjoys practicing various styles that include Hatha, Forrest and Yin Yoga. Her classes are intelligently sequenced, with modifications for every practitioner according to their ability. Anna also focuses on building awareness, strength and healing, both physically and emotionally.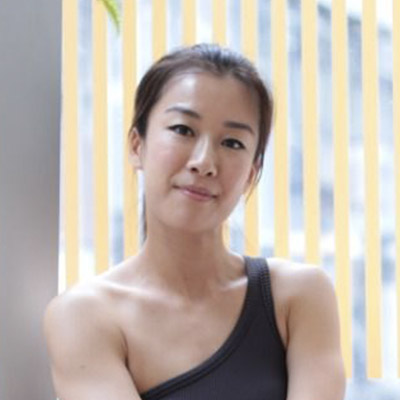 Carrie Pun
Carrie is a 500 hour yoga teacher and has studied yoga and incorporating its philosophy into her life since 2006.Her teaching is rooted in Universal Yoga by Andrey Lappa and blended with Hatha Yoga and Vinyasa style. Have over 10 years experiences leading large groups in various workshops, outdoor classes and charity events locally and worldwide. She has also participated multiple international yoga events as a honorable judge. Her classes offer creative sequences with intentional theme, emphasizing the important of proper alignment, integration between movement and breath, and ongoing awareness. Meanwhile, guiding students through modeling with clear direction and hands-on adjustments.

Carrie is a dedicated Buddhist practitioner and a vegetarian, she illustrates the beauty of kindness, harmless and compassion to all sentient beings, and applies these practices to our modern lifestyles. She weaves thoughts advocating self connection for acceptance and detached involvement. She encourages growth of the physical and spiritual self, expands present moment awareness, so to cultivate the inter-connectedness to each other, to the universe and all domains of life; and is endlessly grateful to all her teachers who have lit her way and is humble to share this light with all of you.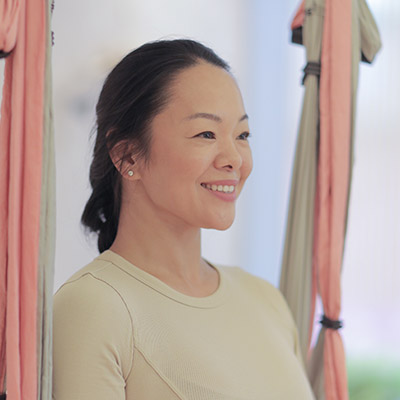 Amani Gong
Amani is a E-RYT 200 & RYT 500 Yoga Teacher and Yoga Teachers College®️ Yoga Trapeze Trainer, who has been very much into dance and sports since a teenager. In the past 15 years she has mainly focused on Yoga and Krav Maga. Words could not express how her body and mind have benefited from it. With her years of experience in combat sports and yoga, Amani found Yoga to be the best modality to strengthen her body, increase flexibility, and gain a new level of awareness. She believes in live the life she love and loves the life she live, and she is looking forward to share her knowledge and practice with you, for a more healthy body, peaceful mind and balanced life!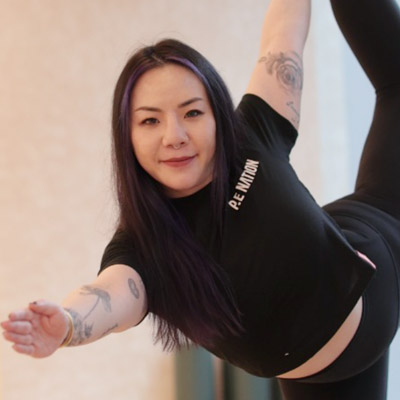 Eunice Lo
Eunice's Yoga journey started in 2015. Being made aware that Yoga is not merely physical practice, Eunice perceives yoga as a lifestyle and attitude towards life, as well as a guide to how to treat others. Her teaching is based on Navakaraṇa Vinyāsa, with verbal or physical adjustments; with safety being her first priority, students will eventually establish connection to their body through breathing and prana. Her class is energetic, powerful and uplifting - open to all levels with different options available. Arm balancing and inversions might be included in Eunice's class.
Start Your Trial
Begin your well-being journey with us! Available only to new Be Earth Students.
Check schedule